Compact: Sketching Venice
So, 13.03.2022 13:45 - 17:00 Live-Online Kurs Ian Fennelly Urban Sketching 49 EUR
Follow Ian Fennelly on the 'Journey of looking' and join a virtual sketching experience to beautiful Venice! This long version of the Venice online workshop is a complete sketching package where you learn how to create a beautiful, colourful sketch of Venice from the start to the very end.
We will get to know everything about layers of looking, and how we can go deep into the process of observing and recording, and through this find happiness in noticing the small details. We will start off by seeing the initial composition of the subject in terms of big shapes, blocks, and lines. Then we will observe and record the next level of detail – what goes inside these shapes – noticing the roofs, windows, street signs and doorways. Then we see the colours of the scene, how they interact, where they fit, and how they make us feel. The next level is to notice and record the tones and shadows which create depth and make things more solid and realistic. We then begin to notice the smaller stuff like shop signs, road crossings, brickwork, and how they fit in to the composition. We then go even deeper and notice the cracks and the grids and the really small street furniture that you only see when you really stop and look.
Ian Fennelly will be drawing live online without any video recording. You will have the chance to answer whatever question you might have throughout the workshop.

Please note:
1.Participants who joined the Venice warm up workshop earlier in the morning, can use their freshly produced sketches during this longer workshop again when it comes to applying colour to the sketches or they can decide to sketch a second one right away!
2.The course pictures of this course do not show the scene you are going to sketch in this workshop! Ian will choose a different image of Venice.

Target group: (all levels) This online course is meant to be for beginners as well as for advanced learners.

Course in Detail

The session will start at 2:00 pm (German time) with short introductions both from Ian and the artistravel team. You'll then be taken through Ian's sketching process live and step by step until approx. 3:30pm
Then there will be a break, so that you can upload your works at this stage to our online bulletin board. Ian will then pick a few of those unfinished sketches and critique / discuss them live, giving valuable advice and recapping some of the steps everybody in class should have been accomplished by then. (composition and colour) Also this natural break will be great to grab a cup of tea and will give slower sketchers the opportunity to catch up.
At about 4:00pm (German time) the sketching process will continue up to 5:00pm (German time). Then you can upload your works again to our board and Ian will pick a few for another feedback session, which will last approx. 30min. So that the class will be completed at about 5:30pm (German time)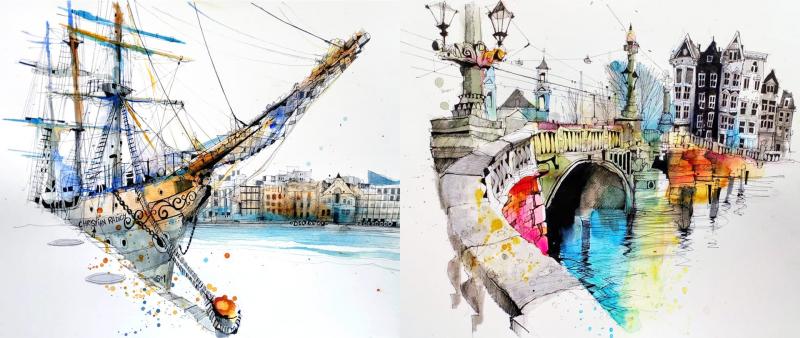 Ian Fennelly